Bro Cluster Architecture
Bro is not multithreaded, so once the limitations of a single processor core are reached the only option currently is to spread the workload across many cores, or even many physical computers. The cluster deployment scenario for Bro is the current solution to build these larger systems. The tools and scripts that accompany Bro provide the structure to easily manage many Bro processes examining packets and doing correlation activities but acting as a singular, cohesive entity. This document describes the Bro cluster architecture. For information on how to configure a Bro cluster, see the documentation for BroControl.
Architecture
The figure below illustrates the main components of a Bro cluster.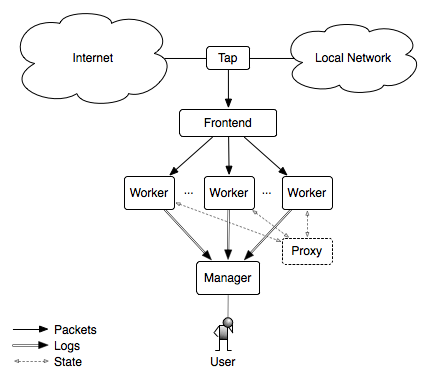 Frontend Options
There are many options for setting up a frontend flow distributor. In many cases it is beneficial to do multiple stages of flow distribution on the network and on the host.
Discrete hardware flow balancers
cPacket
If you are monitoring one or more 10G physical interfaces, the recommended solution is to use either a cFlow or cVu device from cPacket because they are used successfully at a number of sites. These devices will perform layer-2 load balancing by rewriting the destination Ethernet MAC address to cause each packet associated with a particular flow to have the same destination MAC. The packets can then be passed directly to a monitoring host where each worker has a BPF filter to limit its visibility to only that stream of flows, or onward to a commodity switch to split the traffic out to multiple 1G interfaces for the workers. This greatly reduces costs since workers can use relatively inexpensive 1G interfaces.
OpenFlow Switches
We are currently exploring the use of OpenFlow based switches to do flow-based load balancing directly on the switch, which greatly reduces frontend costs for many users. This document will be updated when we have more information.
On host flow balancing
PF_RING
The PF_RING software for Linux has a "clustering" feature which will do flow-based load balancing across a number of processes that are sniffing the same interface. This allows you to easily take advantage of multiple cores in a single physical host because Bro's main event loop is single threaded and can't natively utilize all of the cores. If you want to use PF_RING, see the documentation on how to configure Bro with PF_RING.
Netmap
FreeBSD has an in-progress project named Netmap which will enable flow-based load balancing as well. When it becomes viable for real world use, this document will be updated.
Click! Software Router
Click! can be used for flow based load balancing with a simple configuration. This solution is not recommended on Linux due to Bro's PF_RING support and only as a last resort on other operating systems since it causes a lot of overhead due to context switching back and forth between kernel and userland several times per packet.